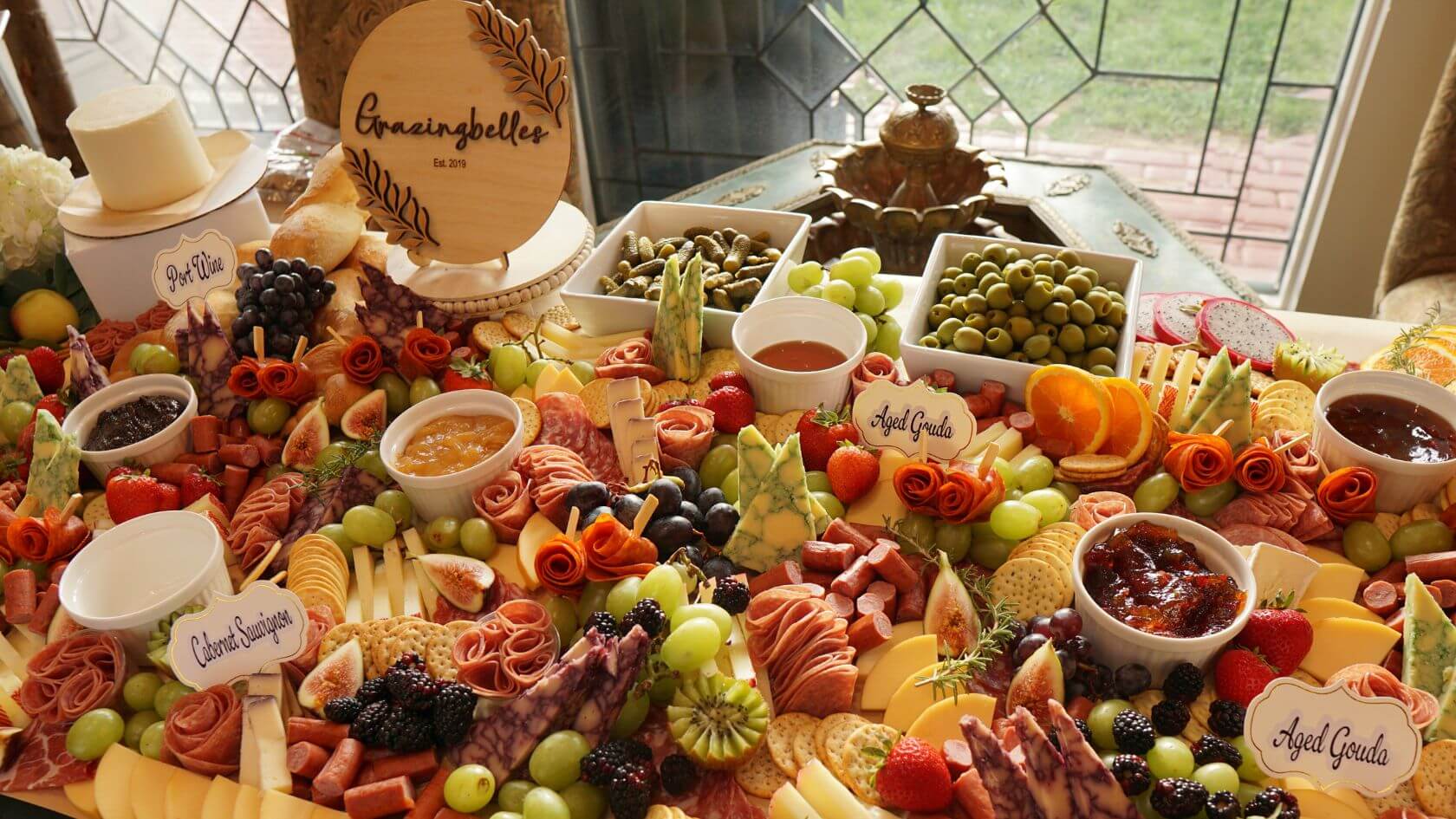 Exceptional Event Planning
Welcome to GrazingBelles Event Planning!
Create unforgettable, flavorful memories with GrazingBelles' exquisite charcuterie-centric event planning services. We specialize in curating unique, sensory-filled experiences, seamlessly blending culinary artistry with impeccable event execution to elevate your special occasions.
---
Our Event Planning Services:
Full-Service Event Planning: From conceptualization to execution, our dedicated event planners will work closely with you to design an event that encapsulates your vision and tantalizes the palate, attending to every meticulous detail.

Curated Culinary Experiences: Our culinary maestros craft bespoke charcuterie spreads and gourmet experiences, tailored to your event's theme and preferences, ensuring a harmonious blend of flavors, textures, and aesthetics.

Venue Decoration & Setup: Transform your venue with our expertly styled, thematic decorations and setups, accentuating the allure of our gourmet charcuterie creations.

Vendor Coordination: We manage and coordinate with premier vendors to provide superior quality services, from floral arrangements to entertainment, ensuring a seamless event flow.
---
Event Types:
Elegant Weddings: Transform your nuptials into a gastronomic extravaganza, with romantic setups and indulgent charcuterie spreads.

Corporate Galas: Impress your colleagues and clients with sophisticated charcuterie arrangements in meticulously planned corporate events.

Milestone Celebrations: Make birthdays, anniversaries, and other celebrations memorable with our tailored, flavorful charcuterie experiences.

Intimate Gatherings: Add a touch of luxury to your intimate soirees with our finely curated and aesthetically pleasing charcuterie tables.
---
Sustainability & Quality Assurance:
At GrazingBelles, we are steadfast in our commitment to sustainability and quality. We meticulously source premium, eco-friendly, and local produce to create our culinary masterpieces, ensuring a guilt-free indulgence that delights all senses.
---
Consultation & Customization:
To create your bespoke event with GrazingBelles, connect with our event planners for a detailed consultation. We will delve into your desires, preferences, and requirements, sculpting a personalized, enchanting event that resonates with your essence.
Contact Us: CLICK HERE
GrazingBelles - Crafting Enchanting Events, One Flavor at a Time.