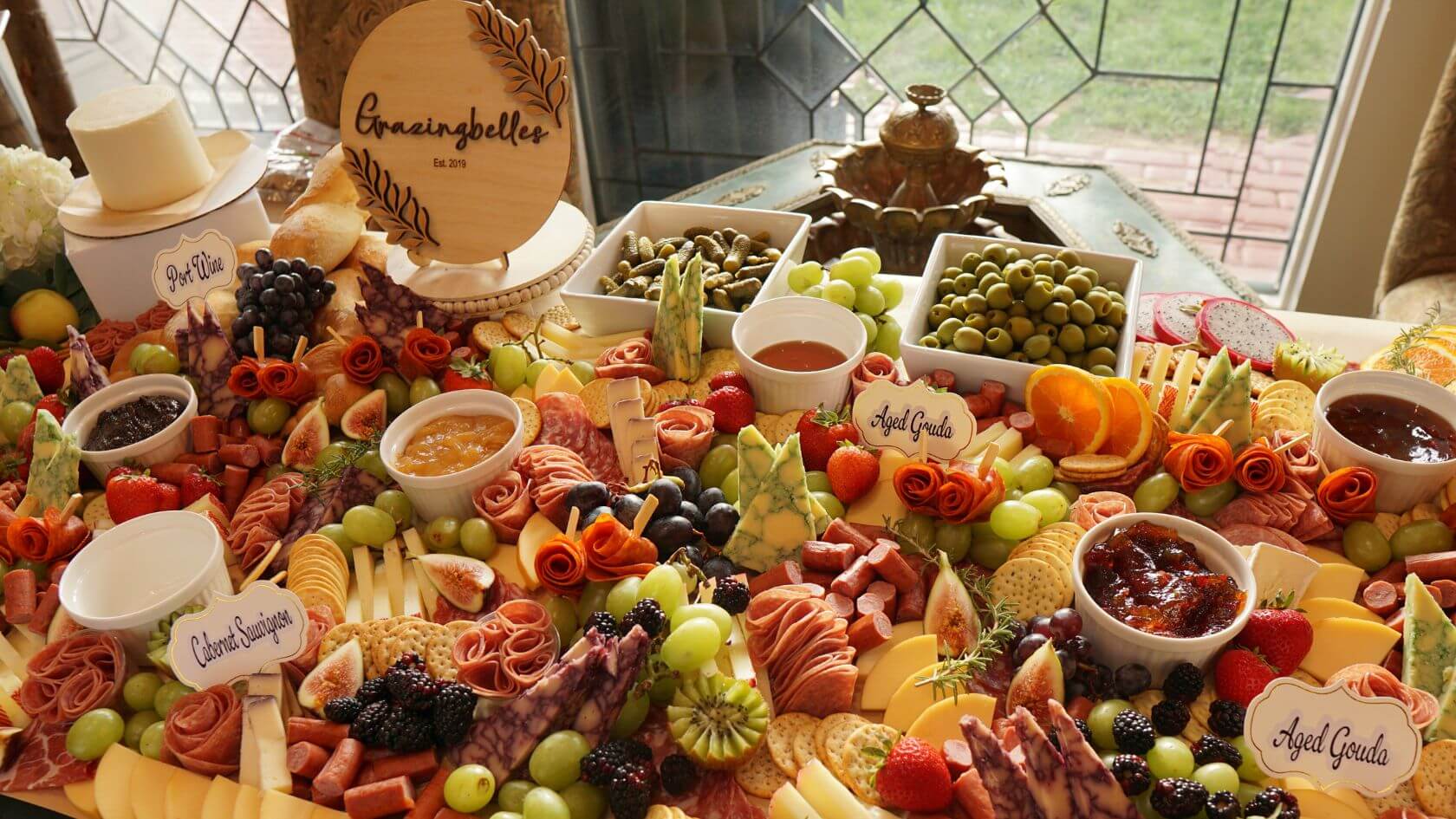 Enchanting Charcuterie Catering Services
Welcome to GrazingBelles!
Indulge your senses in the sumptuous symphony of flavors, textures, and aromas with our world-renowned charcuterie catering service. At GrazingBelles, we fuse timeless culinary traditions with contemporary flair to create unforgettable gastronomic experiences for every occasion.
---
Our Services:
Customized Charcuterie Boards: Delight in our bespoke boards, handcrafted to your preference, boasting a diverse assortment of the finest cheeses, curated meats, fresh fruits, and artisanal crackers. Each creation is a visual and flavorful masterpiece, ensuring every event is enchanting and unique.
Gourmet Grazing Tables: Explore our luxurious grazing tables, a harmonious blend of premium cured meats, exotic cheeses, luscious fruits, nuts, and condiments, designed to transform any gathering into a lavish banquet.
Charcuterie Workshops: Immerse yourself in the rich tapestry of charcuterie with our interactive workshops, where our culinary maestros unravel the secrets behind curating the perfect platter.
---
Exquisite Culinary Selections:
Artisanal Cheeses: Savor the delicate richness of our extensive cheese selection including creamy brie, robust gouda, tangy blue, and many more.
Premium Cured Meats: Experience the symphony of flavors in our meticulously aged and seasoned salamis, prosciuttos, and pâtés.
Fresh Fruits & Nuts: Relish the refreshing taste of our handpicked fruits and premium nuts, adding a sweet and crunchy balance to your palate.
Artisan Breads & Crackers: Enjoy the crunchy texture and wholesome taste of our freshly baked artisanal bread and gourmet crackers.
---
Events We Cater To:
Corporate Events
Weddings
Birthday Celebrations
Product Launches
Intimate Gatherings
Theme-Based Parties
And many more!
---
Our Approach:
At GrazingBelles, we believe in crafting memories through food. We employ a meticulous approach, ensuring that every detail from flavor profiling to aesthetic arrangement is tailored to your preferences. We pride ourselves on sourcing the highest quality, sustainable, and locally produced ingredients, reflecting our commitment to excellence and our passion for the environment.
---
Booking & Consultation:
To embark on a culinary journey with GrazingBelles, reach out to us for a consultation where we will understand your preferences, event specifics, and dietary restrictions to curate a unique charcuterie experience.
Contact Us: CLICK HERE
GrazingBelles - Savor the Experience. Relish the Memories.