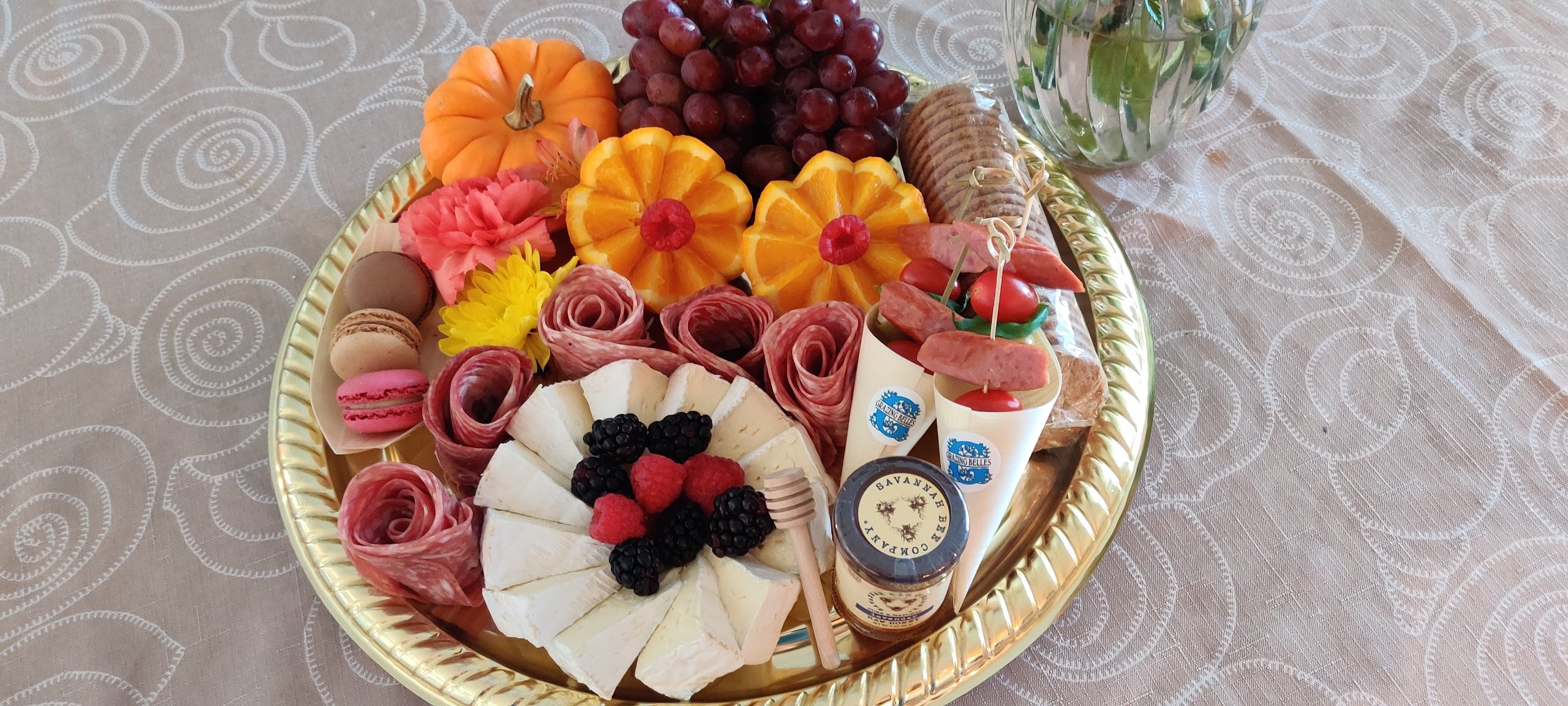 Charcuterie Boards
About Our Charcuterie Boards
Dive deep into the world of gourmet elegance with our signature charcuterie boards. Each board is a canvas, meticulously painted with flavors that evoke memories, create conversations, and tantalize the senses. Our commitment to quality is unwavering. We handpick every ingredient, ensuring that from the velvety touch of prosciutto to the robust essence of aged cheese, you experience nothing but the best.
Our charcuterie boards are not just about food; they're about stories. Each item is sourced with care, reflecting a journey from the farm to your table. We believe in supporting local artisans, ensuring that every bite you take is a blend of freshness and tradition. The fruits, nuts, and accompaniments are chosen to complement the meats and cheeses, creating a harmonious symphony of flavors. When you choose our charcuterie boards, you're not just opting for a meal; you're embracing an experience.
Why Choose Our Charcuterie Boards?
In the vast sea of culinary offerings, our charcuterie boards stand out, setting the gold standard in gourmet experiences. But what makes our boards truly exceptional? It's our unwavering dedication to excellence. With years of expertise, we've mastered the art of curating the perfect board, ensuring a balance of taste, texture, and visual appeal.
The trends indicate that discerning customers often search for "premium charcuterie boards" or "artisanal charcuterie experiences." That's precisely what we offer. Our boards are a testament to our commitment to quality, reflecting our passion for the culinary arts. We understand the nuances of flavor pairings, ensuring that every bite offers a new discovery.
Moreover, our service goes beyond the board. We prioritize customer satisfaction, offering customization options to cater to individual preferences. Our reviews and testimonials speak volumes about our consistency and dedication. In a digital age where "charcuterie boards" are a trending search, we pride ourselves on being the go-to choice for those seeking an unparalleled dining experience. Choose us, and let your taste buds embark on a gourmet journey like no other.